Veteran Military Credit
Personal loans for retired military veterans.
Borrow up to
$40,000
* at rates starting from
6.99% APR
* with a military personal loan* depending upon credit history
or

If you are a veteran of the U.S. Armed Forces of any rank or branch and are looking for a veteran military loan, we have your back. At Military-Loans.com, we want to show the veterans of our nation how much we appreciate the sacrifices they have made for us by offering them fair terms on a personal loan they can afford. These loans offer upfront terms, convenient loan lengths, and low interest rates. Military credit cards are also available to veterans who may be looking to transfer balances at a special low rate or consolidate debts, instead of just a one-time loan.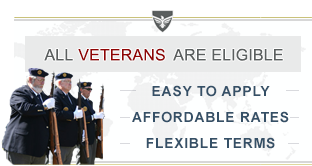 Lending to military service members can be tricky. That is because payday loan companies with high interest rates and hidden fees actively used to scout out military members. We have all heard their slogans: "Bad credit, no credit, no problem!" - but it was a problem. These companies took advantage of the heroes of this nation with terrible rates and hidden fees.
Fortunately for our veterans, you can only apply for the best loan and military credit card options at Military-Loans.com. These loans and cards have fair, up-front rates and no hidden fees. We respect the efforts that our veterans have made and want to show our appreciation by offering them the financial security they deserve.
The application process has been crafted to be as fast and simple as possible. You will be able to view the upfront terms and rates before ever committing to your loan. Upon approval, your money will be deposited directly into your bank account.
Military-Loans.com offers online military loan and credit card options to those who have served honorably in ANY branch of the US Armed Forces, as well as their families.
Borrow up to
$40,000
* at rates starting from
6.99% APR
* with a military personal loan* depending upon credit history
or