Military Spouse &
Dependent Loans
Are there Personal Loans for Military Spouses? Yes!
Can spouses or partners of a reservist, a veteran, or an active duty military member get a military loan? Yes, spouses are eligible to apply for a military dependent or spouse loan at Military-Loans.com. Providing fast financing, fixed rates, and flexible terms, military spouse loans give you cash for any need, from school supplies to a post-deployment family vacation. This unsecured loan for military spouses can also be used to pay off high interest credit cards or cover unexpected personal emergency costs. There are no limitations on how to spend your money after approval. Additionally, credit cards for military spouses are available for those interested in financing everyday purchases or transferring balances from other cards.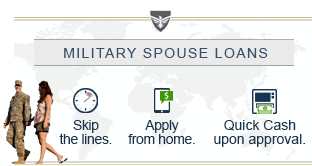 The benefits of online loans include paperless financing, multiple financing options, affordable plans, and low rates. When you apply online, you are given the loan terms and details before completing the application. Before you ever receive your military spouse loan, you are able to check your interest rate and monthly payments. No matter what your credit score, there is a loan for you.
Regardless of your spouse or partner's military status, rank, or branch, you are eligible to apply. Upon approval the money will be deposited directly into your bank account for your immediate use.
Military-Loans.com offers online military loan and credit card options to those who have served honorably in ANY branch of the US Armed Forces, as well as their families.
Borrow up to
$40,000
* at rates starting from
6.99% APR
* with a military personal loan* depending upon credit history
or