Car & Motorcycle Loans
Auto Financing for Military Members
Car Loans
Applying for a personal loan at Military-Loans.com offers military members and their families financing for any purpose, including to purchase a new or used car. Do you need a truck? These car loans extend to trucks, as well as ATVs, boats, RVs, and more. Whether the vehicle is used for recreation or business, a personal loan can get you the ride you need. A personal loan gives you cash to purchase your next used or new car or truck from anywhere - Ebay, Craigslist, car dealership, or your neighbor. Also, by applying for a car loan today, borrowers receive the same benefits from our other loans: fixed interest rates, flexible multi-year loan terms, and fast direct deposit.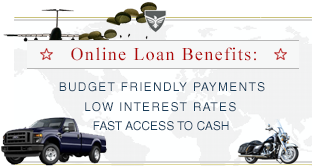 So if you are an active duty soldier, a veteran, or a reservist military member (or a family member of a military member), you are eligible for a military car loan. In just minutes, you can complete an online loan application. Before you hit submit, you can review your interest rate and loan terms.
Get fast approval and competitive rates by applying for a car loan today!
Motorcycle Loans
Motorcycle loans provide military members and their families cash to buy a new or used motorcycle. Yes, even military families are given access to online military loans for the purchase of a new or used motorcycle, regardless of the bike's seller, manufacturer, model, or year. Apply online and you can receive low interest rates and affordable payment options. Upon approval, your funds will be deposited directly into your bank account.
Skip the bank lines and endless paperwork. Fill out a motorcycle loan application to check your interest rate and choose your loan terms. Get all the details before you submit. No hidden fees. Easy and upfront. If you want to purchase the bike sooner rather than later, then a personal loan for motorcycles can get you that money fast.
Have the cash in hand before you negotiate with the seller, and purchase the new or used motorcycle you deserve.
Military-Loans.com offers online military loan and credit card options to those who have served honorably in ANY branch of the US Armed Forces, as well as their families.
Borrow up to
$40,000
* at rates starting from
6.99% APR
* with a military personal loan* depending upon credit history
or