Engagement & Wedding Loans
Wedding Loans and Engagement Ring Financing for Military Members
A wedding or engagement loan offers military members and their families an opportunity to finance all engagement and wedding expenses. Applying for an engagement and wedding loan at Military-Loans.com provides competitive interest rates and flexible terms.
Getting married is a happy occasion, but saying "I do" is a financial strain for most Americans, adding to what is often already a stressful process for new military families. The engagement ring, wedding venue, and honeymoon location are just a few expensive costs when getting married. With affordable wedding loan options, we are here to make sure your special day goes off without a hitch. And if you want to repay your loan before it's due, there are no penalties for paying it off early.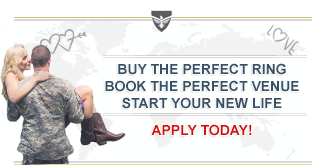 There are no restrictions on how you can use the money. Whether you need to buy a wedding dress, a personalized cake, plane tickets, the perfect decorations from Etsy, or bridesmaids dresses, an unsecured loan can cover all these costs and more.
A fixed, low rate loan is an affordable option for active, veteran, or reserve military members. Applying online offers military members, fiancés, spouses, and family access to a fast and paperless personal loan for engagements and weddings. Apply today and make your special day the day you deserve.
Military-Loans.com offers online military loan and credit card options to those who have served honorably in ANY branch of the US Armed Forces, as well as their families.
Borrow up to
$40,000
* at rates starting from
6.99% APR
* with a military personal loan* depending upon credit history
or