Balance Transfer Card
Transfer high-rate balances to a lower rate military card!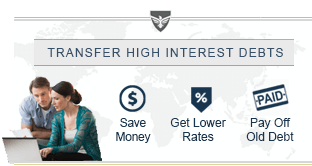 Save money on interest rates and fees by transferring higher rate balances to a lower rate credit card. With the ability to transfer balances from existing cards, a military credit card can offer military members and families more flexibility. A balance transfer card may allow you to consolidate other debts into one monthly payment, allowing for easier control when managing your bills. When credit card debt is simpler to manage, you'll be surprised at how quickly you can finally pay off your debt.
Designed with the military lifestyle in mind, this military card has many advantages, including no annual fee and no fee for exceeding your credit limit. This low rate credit card can provide a convenient balance transfer option.
Select your Military Credit Card Type
Military Credit Card Benefits for Cardholders
All featured military credit cards include the following special benefits for military card members:
Foreign Transactions: ZERO foreign transaction fees when you use your card outside of the United States.
PCS Benefit: 4% APR on balances, purchases, and cash advances for up to 12 months during ordered PCS.
Deployment Benefit: 4% APR on balances, purchases, and cash advances for deployment up to 12 months.
Special 4% SCRA Rate: If you have a balance on your credit card account at the time you enter active duty, you'll get a 4% APR interest rate on that balance until one year after you have completed active duty service.
Campaign Medal Benefit: If you are awarded one of the following campaign medals, you may get a rebate on ALL of the interest charges incurred on your military credit card during that military campaign: Global War on Terrorism Expeditionary Medal, Afghanistan Campaign Medal, Inherent Resolve Campaign Medal.