Military Secured Card
Build or rebuild credit with a secured card up to $5000!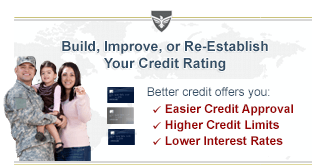 A military secured credit card is recommended for those with no credit or bad credit who want to establish or improve their credit profile. If you're a first time borrower, you can apply for a credit card with a limit up to $5,000 and still enjoy the same benefits as the other more traditional military credit cards, like making purchases wherever major credit cards are accepted. If you have bad credit, making your payments on time will reflect positively on your credit profile. Unsecured credit cards may be available for some borrowers - you'll have to apply to find out!
A military secured card behaves like a traditional credit card and will report your payments to three different credit bureaus. Credit limits can range from $250 to $5,000. Establishing a positive credit history is the key to the future.
Select your Military Credit Card Type
Military Credit Card Benefits for Cardholders
All featured military credit cards include the following special benefits for military card members:
Foreign Transactions: ZERO foreign transaction fees when you use your card outside of the United States.
PCS Benefit: 4% APR on balances, purchases, and cash advances for up to 12 months during ordered PCS.
Deployment Benefit: 4% APR on balances, purchases, and cash advances for deployment up to 12 months.
Special 4% SCRA Rate: If you have a balance on your credit card account at the time you enter active duty, you'll get a 4% APR interest rate on that balance until one year after you have completed active duty service.
Campaign Medal Benefit: If you are awarded one of the following campaign medals, you may get a rebate on ALL of the interest charges incurred on your military credit card during that military campaign: Global War on Terrorism Expeditionary Medal, Afghanistan Campaign Medal, Inherent Resolve Campaign Medal.