Military Credit Cards
Cards that offer special benefits for servicemembers.
A military credit card can provide meaningful benefits for military members and their families, such as lower rates during deployment, PCS, or active duty. Specific military credit card types can offer even more exclusive benefits!
Spouses and immediate family members of those who have served honorably are also eligible to apply for military credit cards, so the safety and savings provided by the cards can be multiplied across entire families to add up fast!
Select your Military Credit Card Type
Military Credit Card Benefits for Cardholders
All featured military credit cards include the following special benefits for military card members:
Foreign Transactions: ZERO foreign transaction fees when you use your card outside of the United States.
PCS Benefit: 4% APR on balances, purchases, and cash advances for up to 12 months during ordered PCS.
Deployment Benefit: 4% APR on balances, purchases, and cash advances for deployment up to 12 months.
Special 4% SCRA Rate: If you have a balance on your credit card account at the time you enter active duty, you'll get a 4% APR interest rate on that balance until one year after you have completed active duty service.
Campaign Medal Benefit: If you are awarded one of the following campaign medals, you may get a rebate on ALL of the interest charges incurred on your military credit card during that military campaign: Global War on Terrorism Expeditionary Medal, Afghanistan Campaign Medal, Inherent Resolve Campaign Medal.
As with civilian cards, some military cards offer custom card benefits like the opportunity to earn cash back on purchases or more cash back on purchases in certain categories, such as groceries or gas. Other cards allow for enrollment in a rewards program to earn points and then redeem for travel or merchandise. Most military cards also support balance transfer capability (fees may apply) and the ability get a cash advance in any emergency.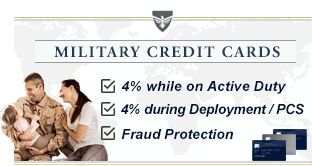 For those new to credit, the greatest benefit of a military credit card is the value of being able to establish a credit history and build a positive credit profile. Earning a higher credit score by exhibiting responsible behavior can boost credit limits, lower interest rates, and qualify you for lower rate auto loans and home mortgages later in life when your credit really matters!
If you've learned that lesson the hard way and need to rebuild your credit, secured credit cards are also available to military members, so you can work your way back up to better credit.
Managing your military credit card account is also a breeze. Payments on your military credit card can easily be made through a mobile device, computer, or tablet. In fact, you can check your account balances and follow your transaction history by text message. That way, the primary credit card holder and family members linked to the card can accurately track purchases and avoid exceeding the credit limit or accidentally missing a payment.
If you are a military member or a member of a military family, then apply today to see what military credit cards and benefits are available to you.