Military Rewards Card
Earn maximum points to redeem for rewards & travel!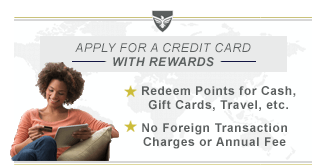 Using a military rewards credit card, you can earn rewards points for air travel, cash rebates, merchandise, and gift cards. For every dollar spent on everyday purchases, you earn 1 point. Your first purchase gets you 2,500 bonus points, automatically. There is no limit to how many points you can collect and points do not expire. You can even transfer your own rewards points to another cardholder in your reward membership program. This rewards credit card also provides military members and families with some special retail product warranty benefits.
Rewards points instantly accrue to your account each time you make a qualifying purchase. Rewards members can redeem these points whenever they like, transfer points to a family member in the same program, or save for later!
Select your Military Credit Card Type
Military Credit Card Benefits for Cardholders
All featured military credit cards include the following special benefits for military card members:
Foreign Transactions: ZERO foreign transaction fees when you use your card outside of the United States.
PCS Benefit: 4% APR on balances, purchases, and cash advances for up to 12 months during ordered PCS.
Deployment Benefit: 4% APR on balances, purchases, and cash advances for deployment up to 12 months.
Special 4% SCRA Rate: If you have a balance on your credit card account at the time you enter active duty, you'll get a 4% APR interest rate on that balance until one year after you have completed active duty service.
Campaign Medal Benefit: If you are awarded one of the following campaign medals, you may get a rebate on ALL of the interest charges incurred on your military credit card during that military campaign: Global War on Terrorism Expeditionary Medal, Afghanistan Campaign Medal, Inherent Resolve Campaign Medal.