Debt Consolidation Loans
Debt Consolidation Financing for Military Members
Consolidating your high interest rate debts and loans into one simple loan payment with a lower interest rate may save you money. Applying for a debt consolidation loan (or military credit card with balance transfer options) at Military-Loans.com provides you fast financing with affordable monthly payments and low rates. By combining your car loan, credit card debt, and other financial obligations into one fixed rate unsecured loan, you can consolidate all of your high interest debt into one payment.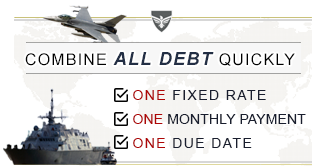 In addition to combining debts under a single fixed-rate loan, debt consolidation loans can also help those struggling to pay off their current debt. If you are receiving calls from bill collectors, or using one line of credit to pay off another, a debt consolidation loan can put a stop to the madness. End the debt confusion and apply today.
If you are paying more in interest than on the principal of your debt, a debt consolidation loan offers you the relief you need. The application process has been designed to be as easy as possible, and you get to view the upfront terms of the loan before accepting. If you apply and do not accept any particular loan offer, merely decline the loan offer(s) with no credit risk. This unsecured loan requires no collateral, has no unnecessary fees, and will not surprise you with any hidden charges.
Apply for a paperless, stress-free online loan, and as soon as you are approved, the money will be transferred directly into your bank account. Consolidate your debts into one easy unsecured personal loan. Apply today!
Military-Loans.com offers online military loan and credit card options to those who have served honorably in ANY branch of the US Armed Forces, as well as their families.
Borrow up to
$40,000
* at rates starting from
6.99% APR
* with a military personal loan* depending upon credit history
or