Military Relocation Credit
Military Travel Loans & Relocation Financing
Is it that time to travel and relocate to a new military posting? Military travel loans can provide that extra money necessary for when you have to pick up and move, whether just by yourself or with your entire family in tow.
Moving is stressful. It can be especially stressful for military members or military families, relocating from base to base across the country, or even the world. And every move comes with costs that can strain a budget, from moving trucks and movers to renovations and decorations for the new residence. Apply for a military travel loan at Military-Loans.com. No matter what arises, you can rest easy knowing you have the financial security to make the costs of travel anything but stressful.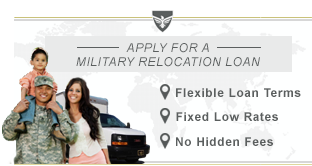 Extra cost of food, new school for the kids, paying the movers, this is all covered with the military relocation allowance, but everyone knows how long the allowance takes to be distributed. Our military travel loans can cover any or all costs associated with relocating to your new military post. Get your money within days, not weeks or months.
This military travel loan offers fixed interest rates and competitive terms, and there is nothing preventing you from paying it off early. That's right, once you get your allowance, you can pay any or all of the loan back with no early payment penalties.
Apply today and take at least some of the stress out of the moving process.
PLEASE NOTE: This loan applies to Active Duty Servicemen and military members, only.
Military-Loans.com offers online military loan and credit card options to those who have served honorably in ANY branch of the US Armed Forces, as well as their families.
Borrow up to
$40,000
* at rates starting from
6.99% APR
* with a military personal loan* depending upon credit history
or