Military Personal Loan
Personal loans for military members and veterans.
Living as a veteran, military reservist, or active duty member of the armed forces is stressful enough without having to deal with the added burden of financial problems. Military-Loans.com offers solutions to current and former members of the military who are looking for a fast, simple personal loan. Whether you need money for a vacation, staying current on your bills, a new car, consolidating your debts, starting a business, or anything else, a military personal loan offers you financial confidence and gets you the funds you need.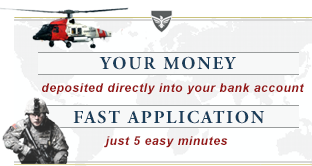 Specially tailored for current members of the armed forces, veterans, and military families, these fixed-rate loans offer a simple application process, competitive rates, and payment plans that fit around your long-term goals.
We more than anyone know that military life can be anything but easy or efficient, so we believe that applying for a military personal loan should be as fast and simple as possible. Just enter your current status in the armed forces, your credit score range, and your preferred repayment period to view the military personal loan options available to you. Upon approval, the funds will be deposited directly into your bank account.
Apply for a military personal loan today and enjoy the financial security that the heroes of this nation deserve.
Military-Loans.com offers online military loan and credit card options to those who have served honorably in ANY branch of the US Armed Forces, as well as their families.
Borrow up to
$40,000
* at rates starting from
6.99% APR
* with a military personal loan* depending upon credit history
or