Medical & Dental Financing
Medical & Dental Loans for Military Families & Dependents
Are you an active member, veteran, reservist, or have a family member in the military and need medical or dental financing? Military members and their families can apply for the medical loan they need at Military-Loans.com.
These personal loans offer you quick cash to cover expensive medical bills. Typically, the interest rates and monthly payments of these loans are lower than that of credit cards or medical office financing. Apply now and receive fair rates, affordable terms, and fast financing for the costs of any dental or medical procedures.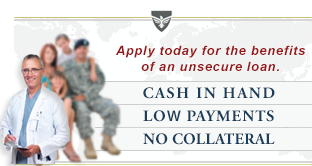 Do you or a family member need a root canal, a sinus surgery, or any other non-covered medical expense? Apply today to get fast approval and cash for your medical needs. You are also eligible for loans to cover expenses for preventative, elective, restorative, and cosmetic procedures.
Whether you need to visit an endodontist, obstetrician, gynecologist, plastic surgeon, dermatologist, ophthalmologist, orthopedic or general practitioner, a personal loan can cover those costs.
Get the money you need for the medical attention you deserve.
Military-Loans.com offers online military loan and credit card options to those who have served honorably in ANY branch of the US Armed Forces, as well as their families.
Borrow up to
$40,000
* at rates starting from
6.99% APR
* with a military personal loan* depending upon credit history
or