Active Duty Military Loans
Financing for all branches of the US military.
Active duty members of the armed forces face all kinds of uncertainties that civilians will never understand, but none of those uncertainties should be financial. At Military-Loans.com, we understand that and offer the security that only fast, affordable, fixed-rate military personal loans and military credit cards can provide.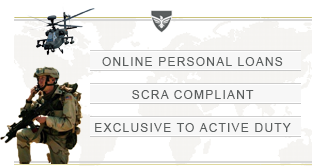 These loans and credit cards have upfront terms, so you can approve your lending agreement before ever submitting your application. In addition to being SCRA compliant, they also offer reasonable rates and repayment periods that are tailored to your preferences.
These loans can be used for anything, whether you need to keep the lights on while you fight for us overseas, buy the new car you deserve, or want to take your family out of town on that special vacation. The reason you need a personal loan is not taken into account when determining your rates.
All that is needed to see the upfront terms of your military personal loan is your current military status, your credit score range, and your preferred repayment period. We want your application process to be as fast, easy, and honest as possible. After you find the right loan option for you, just submit your application. Upon approval, the funds will be deposited directly in your bank account.
As a hero of this nation, you deserve financial security. Apply today to get the money you need when you need it.
Military-Loans.com offers online military loan and credit card options to those who have served honorably in ANY branch of the US Armed Forces, as well as their families.
Borrow up to
$40,000
* at rates starting from
6.99% APR
* with a military personal loan* depending upon credit history
or