VA Home Loans
Home mortgage financing for veterans.
Retired military veterans and active-duty servicemen are eligible to apply for VA home loans at Military‑Loans.com. VA loans are available to first-time homebuyers, current homeowners looking to refinance for a better interest rate, and for veterans embarking on a home improvement project (with VA cash-out refinancing).
VA Home Loans vs Traditional Mortgages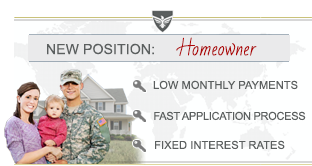 VA loans are easy to qualify for and provide low fixed interest rates. Down payments are not required as long as the purchase price is within the appraised value of the property. You'll save on closing costs since they are regulated by the VA. Your monthly payment will be lower since you don't have to pay private mortgage insurance (PMI), and there are no prepayment penalties if you wish to payoff your loan early. These savings factors make VA loans very appealing to veterans and active-duty members of the US Armed Forces.
VA Loan Requirements
All veterans, active-duty personnel, and surviving spouses with a Certificate of Eligibility (COE) can apply. If you don't already have a COE, the quickest way to obtain one is through the VA's eBenefits portal. Without a down payment, you can borrow up to four times your guaranteed entitlement (starts at $144,000). There is no set upper cap on available loan amounts. You can use a VA home loan to buy or build a home and land, make 'green' improvements to an existing home, or to purchase a fixer upper and make the home improvements on your own.
Military-Loans.com offers online military loan and credit card options to those who have served honorably in ANY branch of the US Armed Forces, as well as their families.
Borrow up to
$40,000
* at rates starting from
6.99% APR
* with a military personal loan* depending upon credit history
or