National Guard Loans
Financing for Air Guard and Army Guard Soldiers.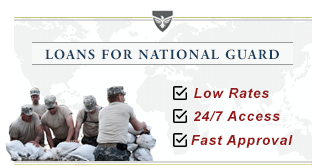 Online financing offers personalized loan opportunities that are specifically structured for Air and Army Guard members and their families. For the majority of national guard members with full time civilian jobs, a natural disaster or security emergency can find you deployed within your state or halfway across the world. Managing personal finances can become chaotic during these times. Unexpected expenses can seem to come at you all at once, thankfully, there are many options available for you to better control your bills and overall finances. A personal, unsecured loan has unlimited uses. You can consolidate several debts with different due dates and interest rates into one loan, make renovations that increase the value of your home, or pay for basic living expenses while being deployed. Flexible terms and low rates make personal loans an affordable and preferred choice among the national guard community. These loans feature some of the most competitively priced options available to National Guardsmen.
The exceptional personal organization and management that is required of the U.S. state and federal militia can be overwhelming. As a National Guard member, you are committed to always be ready and to always be there when called on. Let Military-Loans.com carry you to financial tranquility with a personal loan.
Military-Loans.com offers online military loan and credit card options to those who have served honorably in ANY branch of the US Armed Forces, as well as their families.
Borrow up to
$40,000
* at rates starting from
6.99% APR
* with a military personal loan* depending upon credit history
or