Military Loans
No Credit Check
Paperless, Secure, & Fast Funding
Do you have bad credit? Do you need a loan? No "hard" credit check military loans are available for military members, reservists, spouses, and others affiliated with the US Armed Forces. Have less than perfect credit and need immediate loan approval? Applying for a military loan without a "hard" credit check can let you check your rate before getting a "hard credit inquiry" which may affect your credit score.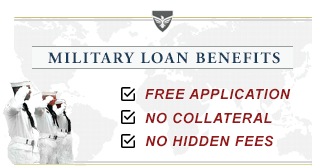 Unexpected expenses faced by you and your family make it difficult to build good credit, so we understand that not every member of the military has perfect credit. From frequent deployments to moving to a new base, there are many reasons your credit may not be perfect. Regardless of that reason, Military-Loans.com is here to help.
A military loan with no "hard" credit check makes financing an engagement ring, water heater upgrade, or new vehicle purchase possible. Whether you are affiliated with the Army, Air Force, Coast Guard, Marines, or Navy you are eligible to apply for a fixed rate military personal loan.
Take advantage of this financial opportunity today. The application process has been streamlined to be as quick and easy as possible. Upon approval, your money will be deposited directly into your bank account.
PLEASE NOTE: If, after checking your rate, you accept a loan offer, a "hard" credit check inquiry WILL occur.
Military-Loans.com offers online military loan and credit card options to those who have served honorably in ANY branch of the US Armed Forces, as well as their families.
Borrow up to
$40,000
* at rates starting from
5.99% APR
* with a military personal loan* depending upon credit history
or